'tis the season for soup…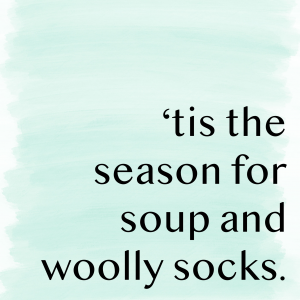 As I write this, it is the getting to the end of September and we are starting to feel the crisp chill in the air. This is when I start to switch my diet up to make some hearty soups. I still have soup in the summer, but on the colder days, especially after a dog walk or a run, a soup hits the spot!
I grew up with soup! My Mum and Dad both enjoy making different concoctions of soup and there is always a bowl of soup on offer when you visit my Mum and Dad!
Whether a you're whipping up a broth-based creation or noshing on a bowl of hearty stew, soups offer these five benefits:
They're good for you. While some soups can devastate a diet (cream-based varieties can be particularly high in fat and calories), most serve as a great vehicle to meet your daily quota for veggies. So, if you are in control of making a home batch of soup, you can give your body a great boost by including lots of veggies. One bowl of soup packed with healthy nutrients of protein and fibre are not only beneficial to you but keep hunger cravings at bay.
They're inexpensive and easy to prepare. Soups and stews don't require a large amount of hands-on time. In fact, if you use a slow cooker or something similar, you can prepare a savoury soup in five minutes flat, and let the cooker do the rest of the work. If you amp up the liquid and vegetables, you can use smaller amounts of expensive ingredients, such as chicken, fish and beef.
They freeze well. Soup and stews are great if you want to meal prep lunches or dinners in advance. Whip up a batch on the weekend, and you can stash half in the freezer to enjoy later. A bonus: you'll have healthy, homemade soup at the ready when you're busy, under the weather or too tired to cook.
They keep you hydrated. During the winter chill, it's not uncommon to drink less than you need. But while you may not be hot and sweaty, you still lose fluid through daily activities. Since soups are mostly liquid, they're a great way to stay hydrated and full.
They give your immune system a boost. Soups can help you stave off cold and flu, and they're a great antidote for times when you are sick, too! Most soups are loaded with disease-fighting nutrients. In fact, studies show that chicken soup in particular can help prevent the common cold, especially if you load it up with fresh garlic, onions, celery and carrots. (They all contain powerful immune-boosting chemicals.) A bonus: the hot liquid helps soothe a sore throat.
There are so great soups on the BBC Good Food site - HERE 
Here are some favourites:
Butternut Squash with Chilli and Creme Fraiche Soup
What are your favourites? I would love to know! I am always up for making a new soup...
Kirsty 🙂