Finding the time and the balance…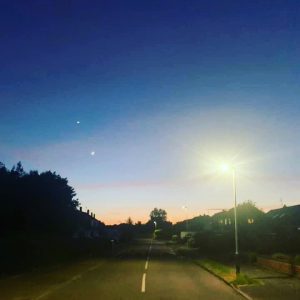 Such a lovely photo from a late night bike ride! But this is more than a photo of a night skyline - this is about a busy mum of three making the time for her mind and body to get outside, to exercise, time to breathe and time to think. We all are guilty of those 'I don't have time' comments - but we do have time - you may need to be creative to find the time but I'm sure you can find 20 mins for a power walk, a jog, a run, a bike ride, a workout...
This is a photo which @nathaliejanelouise took on her late cycle to get her daily movement.
Nathalie started on our online programme just over four weeks ago and has transformed her daily routine to include daily exercise, planning out food and making choices which will benefit her goals. Nathalie is on her way in reaching the goals - keep going Nathalie - there will be bumps in the road but keep remembering your inner motivation - your 'why' - 'WHY' you want to do this this'....
The workouts in our programme are based on 30 minutes - these can be lengthened a you wish. Find out more in the link in our bio. The special part of this programme is that you get lots of support, not just from me, but those who are also in the programme.
#thisgirlcan #onlinefitness #bodyweightworkout #dumbbellworkout #transformation