You don't need to see the whole staircase…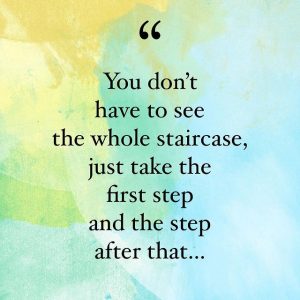 For me, I personally like to know where I am going to, but I do think it is important to take step by step and take a breather as and when you need to.
Some times, I like to have a sit on the step and a natter then just move on when I am ready.
BUT, on the other hand, I can be incredibly impatient and want it all at once - I want to leap the whole staircase in one leap to get to the top!
What do you think?
This month, I am running two challenges - a 'Thirty Day Reset' and a '28 Days of Movement' - click in my bio for more information. You can take one step at a time...
#mindset #growthmindset #reflection #learnaboutyourself #selfcare #growthmindset