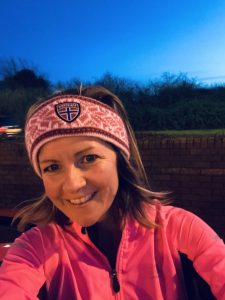 If you ever meet me or talk to me you will know that I really love what I do.
Since my late teenage years, I have taught in one way or another and from a very early age had a love and passion for fitness.
The journey of teaching and learning has involved Fitness from a young age. I think my interest was really ignited when I took my P.E 'A' level. I was the only girl in the class but that didn't deter me!
After a GAP year in New Zealand in a school helping out in the P.E department, I then went on to complete my Sports and Exercise Science and Psychology degree, then came the PGCE P.E, conversion to Primary School Teacher, the actual teaching, Senior Management experience, being a Sailing Instructor and working in South of France for PGL.
This (and many of experiences too) has all brought me to be doing what I am doing.
So why I do what I do?
What inspires me to develop Infinite Balance?
At a pivotal point in my life, a few years ago now, I needed to see someone pop up on Facebook / Instagram that I could connect with to get 'balance' back in my life. I needed someone 'out of my bubble' to motivate me and tell me that I could do it and that I needed to make time to look after myself.
My family and friends would support me but I was not in the right place to listen to my nearest and dearest (sorry!).
I needed someone 'else' to give me a positive push in the right direction.
I needed someone 'else' to tell me that I needed to get a balance in my life.
I needed someone 'else' to remind me of the importance of your physical, nutritional AND your mental wellbeing.
I need someone 'else' to offer me a safe place to exercise where I mattered.
I needed to be able to go to have a workout and someone 'else' would say a 'cheery' hello and know my name and know me.
I needed to be part of a community where people supported one another.
I needed support from outside of my 'bubble'.
I needed encouragement to make a change.
I needed that someone else.
I never did find that person at that time.
But at that time,  I did eventually find myself - with the kind and loving support of my family and friends. I did realise what was important. I did start to be able to prioritise. I was able to listen to my nearest and dearest and hear what they were saying to me.
I have gained a perspective on life that I would never have had if I hadn't had that time in my life that was tough. I don't regret that time at all as it has led me to where I am today. BUT I do want to now help others who are in that space and need someone.
Now fast forward a few years and I continue to base 'Infinite Balance' on what I needed at that time in the hope that I can help someone else in their hour or two of need.
I know that I can help you if YOU are that person who needs someone to give them that little nudge of motivation (or big nudge!) plus there is not only me but I have a wonderful group of members who will also be there to support too. We have a great Facebook group community to support in the background in addition to our sessions and our wellbeing programme too -our Thirty Day Reset.
Reach out and say 'hello' if you need 'that' person, the 'someone else' to listen to you, to give you the extra motivational boost you need. Whether you are a current member of Infinite Balance and just need to talk through where you are at the moment and how you are getting on, or you have never spoken to me or been to a session - get in contact and we can arrange to have that chat.
Together we are stronger.
www.infinitebalance.co.uk
#personaltrainer #smallbusinessowner #smallbusiness #personaltraining