Recipe Ideas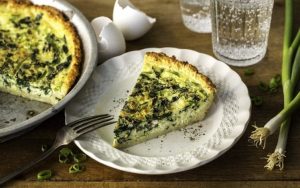 Snacking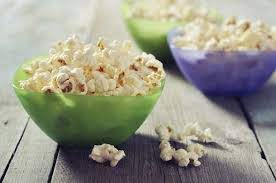 Quinoa Edamame Egg Muffins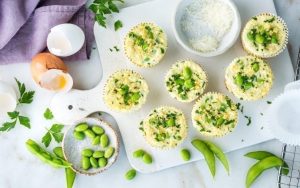 Make these high-protein, pre-portioned bakes in advance to grab and go on a busy morning. Edamame and quinoa are plant-based all-stars, with lots of fibre and nutrients, and they give the eggy rounds some crunch and color.
Quinoa Edamame Egg Muffins
Ingredients
1/4 cup (45g) quinoa
2 large egg
6 large egg whites
1 5.3-ounce (150g) container 0% Greek yogurt
2 tablespoons shredded Parmesan cheese
2 tablespoons fresh parsley
1 cup (155g) edamame, thawed and shelled
Directions
Preheat the oven to 350ºF (177ºC). Line eight cups in a muffin pan with paper liners and set aside.
In a small pot, bring 1/2 cup water to a boil. Add the quinoa, cover tightly and reduce the heat to low. Cook for 14 minutes, then remove from heat and let stand for 5 minutes. The water should all be absorbed; let cool.
In a large bowl, combine the eggs, egg whites and whisk until mixed. Add the yogurt and parmesan and whisk until smooth. Stir in the parsley, edamame and cooked quinoa.
Divide the egg mixture between the prepared muffin cups, filling almost to the top.
Bake for 30 minutes, until puffed and firm to the touch. Cool in pan on a rack. Serve warm. To save for the week, let cool completely to room temperature before transferring to a storage container and covering tightly. Refrigerate for up to four days.
Serves: 4 | Serving Size: 2 muffins
Nutrition (per serving): Calories: 230; Total Fat: 5g; Saturated Fat: 2g; Monounsaturated Fat: 1g; Cholesterol: 95mg; Sodium: 363mg; Carbohydrate: 16g; Dietary Fiber: 3g; Sugar: 3g; Protein: 19g
Roasted Ratatouille Spaghetti
Active time: 15 minutes Total time: 45 minutes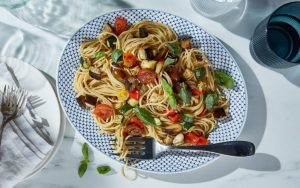 Roasted aubergine, courgette and and cherry tomatoes "melt" when they're roasted on a baking sheet, making an amazing chunky pasta sauce with minimal effort. Unpeeled garlic cloves roast in their skins alongside the vegetables, and once peeled they add a creamy texture and flavor to this vegan dish. Use a large baking sheet and don't worry if it looks like a lot of veggies, they shrink as they roast.
Herbes de Provence is a salt-free herb blend of basil, chervil, thyme, tarragon, bay and lavender traditionally used in ratatouille and other Mediterranean dishes. Its bright, herbal flavor plays well with summer vegetables, grilled fish and chicken. Find it at a well-stocked grocery store or order it online.
Tip: If you want a bit more substantial serving of protein, try using chickpea or lentil pasta instead of whole-wheat spaghetti or mix in some cannellini beans before serving.
Ingredients
1 medium red bell pepper, chopped
1 small (250g) aubergine, cut into 1/2-inch (1.3cm) cubes
1 medium (250g) courgette cut into 1/2-inch (1.3cm) cubes
2 cups (350g) cherry tomatoes, halved
6 medium garlic cloves, unpeeled
2 tablespoons olive oil
1 teaspoon herbes de Provence or Italian seasoning
1 teaspoon salt
1/2 teaspoon pepper
8 ounces (227g) whole-wheat spaghetti
1/2 cup fresh basil leaves, torn into bite-size pieces,optional garnish for serving
Directions
Preheat oven to 450°F (232°C). Line a baking tray with a baking sheet. Mound the vegetables on the baking sheet with the garlic. Drizzle with the oil and sprinkle with herbes de Provence, salt and pepper, and toss with your hands to coat the vegetables with oil. Bake, stirring with a spatula once or twice, until the vegetables are tender when pierced with a fork, 30 minutes.
While the vegetables are roasting, bring a large pot of salted water to a boil. Add the pasta and cook according to package instructions. Drain, reserving 1/2 cup of the cooking water. Place the pasta in a large serving bowl.
When the vegetables are done, transfer the garlic to a cutting board. Peel the garlic and mash with a fork. Combine with the garlic, spaghetti, roasted vegetables, basil and enough reserved pasta water to coat the noodles with the veggie sauce. Serve immediately.
Serves: 4 | Serving Size: 1 3/4 cups spaghetti/284g
Nutrition (per serving): Calories: 322; Total Fat: 9g; Saturated Fat: 1g; Monounsaturated Fat: 5g; Cholesterol: 0mg; Sodium: 589mg; Carbohydrate: 52g; Dietary Fiber: 9g; Sugar: 7g; Protein: 10g
Cauliflower-Crusted Spinach Feta Pie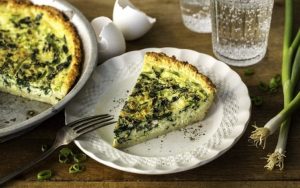 Naturally gluten-free, cauliflower makes a great alternative to flour-and-butter crusts and adds even more veggie servings to the pie.
               
Ingredients
For the crust
1 large head cauliflower, cut into 8 cups (1200g) florets
1 tablespoon Parmesan cheese, shredded
2 large egg whites
For the filling
6 large egg whites
2 large eggs
10 ounces (284g) frozen spinach, thawed and drained
3/4 cup (100g) feta cheese, crumbled
1/4 cup (25g) green onion, chopped
1 teaspoon dried oregano
1/2 teaspoon ground black pepper
Directions
For the crust
Preheat the oven to 400°F (200ºC), and coat a a deep, 9-inch pie pan with cooking spray, reserve. Spread a clean tea towel on the counter for draining the cauliflower.
Place the cauliflower in a microwave-safe bowl and heat 5 minutes on high. The cauliflower should be tender. Transfer half of the cauliflower to a food processor and process mincing finely. Dump the cauliflower on the clean tea towel, and repeat with the remaining cauliflower. Use a spatula to spread the cauliflower in a loose layer over the tea towel and let cool for 10 minutes.
While it cools, whisk the 2 egg whites with the parmesan in a medium bowl. When the cauliflower has cooled, pull up the edges of the towel and make a bundle, and press and knead the cauliflower over the sink to remove as much water as possible. Wring and twist the towel to squeeze out all the moisture; it will take a few minutes. When nearly dry, transfer the cauliflower to the bowl with the egg whites and stir to mix. Spoon into the oiled pie pan and press down with the back of the spoon to form a crust, making a rim about half an inch above the edge of the pan. Bake for 15-20 minutes. The edge will be browned and the bottom will look dry.
For the filling
Whisk the remaining egg whites and the whole eggs in a large bowl. Wring the water from the spinach and add to the eggs along with the feta, green onions, oregano and pepper. Stir to mix, and pour into the baked shell. Smooth the top and bake for about 35–40 minutes, until the top is puffed in the center and the eggs are cooked through. Cool on a rack for five minutes before slicing into 7 pieces.
Serves: 7 | Serving Size: 1/7 of a 9-inch pie
Nutrition (per serving): Calories: 136; Total Fat: 6g; Saturated Fat: 3g; Monounsaturated Fat: 1g; Cholesterol: 68mg; Sodium: 330mg; Carbohydrate: 11g; Dietary Fiber: 5g; Sugar: 4g; Protein: 13g   
Dijon and Chickpea Egg Salad (serves 4)
Made from mostly pantry and fridge staples, this versatile salad is a great option for easy lunches. It has the satisfying richness of egg salad but is lightened up with smashed chickpeas. Dijon mustard and briny capers offer pops of savory flavor. If you don't have capers, use chopped pickles. Enjoy on a bed of lettuce, as below, with crackers or as a sandwich.
Dijon Chickpea and Egg Salad
Ingredients
1 (15-ounce/425g) can no-salt-added chickpeas, drained and rinsed
4 large hard-boiled eggs, chopped
6 tablespoons (86g) canola mayonnaise
1/4 cup (16g) green onions, chopped
2 tablespoons capers, drained
1 tablespoon Dijon mustard
1/4 teaspoon kosher salt
1/4 teaspoon black pepper
8 lettuce leaves
Directions
In a large bowl, coarsely mash chickpeas with a fork. Add eggs and stir to combine. Stir in mayonnaise, green onions, capers, Dijon, salt and pepper. Serve over lettuce leaves.
Serves: 4 | Serving Size: 2 lettuce leaves and about 3/4 cup salad
Nutrition (per serving): Calories: 248; Total Fat: 12g; Saturated Fat: 2g; Monounsaturated Fat: 5g; Cholesterol: 186mg; Sodium: 537mg; Carbohydrate: 19g; Dietary Fiber: 5g; Sugar: 1g; Protein 12g
Nutrition Bonus: Potassium: 236mg; Iron: 13%; Vitamin A: 12%; Vitamin C: 6%; Calcium: 8%
Curried Chicken Skewers With Raita
These easy skewers are a perfect appetizer for an Indian-inspired meal and pack a protein punch with a Greek yogurt-based raita for dipping. Using curry powder saves time, and you can pick a mild or hot blend to suit your taste.
               
Tip: Turn this into a full and balanced meal by serving alongside 1 cup of steamed vegetables and your favorite whole grain, like brown rice, quinoa or farro.
Ingredients
For the chicken skewers
12 ounces (340g) chicken breast
1 teaspoon curry powder
2 teaspoons fresh lemon juice
1 teaspoon avocado oil
16 cherry tomatoes
8 6–8 inch (15–20cm) wooden skewers, soaked
2 teaspoons avocado / coconut oil, for grill, if using
For the raita
3/4 cup (190g) plain 0% Greek yogurt
1 cup (133g) cucumber, chopped
2 tablespoons fresh mint, minced
1/4 teaspoon salt
1/4 teaspoon freshly ground black pepper
Directions
Slice the chicken breast into 8 long strips, then place in a medium bowl. Add the curry powder, lemon juice and avocado oil and toss to coat.
Thread each chicken strip onto a skewer, wrapping around each tomato as you impale two tomatoes per skewer. Place on a plate and cover until time to grill or broil.
In a medium bowl, combine the yogurt, cucumber, mint, salt and pepper and stir to mix. Refrigerate until time to serve.
Prepare a grill to medium heat, or preheat the broiler. If using the grill, preheat, then brush the grate with the remaining 2 teaspoons oil. If broiling, line a sheet pan with foil and place the skewers on it, you won't need the 2 teaspoons of oil.
Grill or broil for 2–3 minutes per side, until the chicken is browned and cooked through. Serve with raita for dipping.
Serves: 4 | Serving size: 2 skewers and 5 tablespoons raita
Nutrition (per serving): Calories: 175; Total Fat: 6g; Saturated Fat: 1g; Monounsaturated Fat: 3g; Cholesterol: 62mg; Sodium: 204mg; Carbohydrate: 6g; Dietary Fiber: 1g; Sugar: 6g; Protein: 24g