The 'Reset' - Nutrition, Fitness and Lifestyle Coaching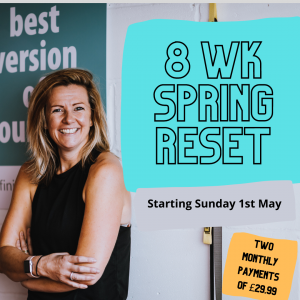 The Reset Program is a TWO MONTH PROGRAM to support you in prioritising your Fitness and Wellbeing.
The program is delivered to you via our Trainerize App which includes: videos on weight loss, food planning, calories and macro nutrients, emotional eating, goal setting, mindful eating and more; strengthening workouts; link to My Fitness Pal for calorie tracking meals and macro nutrient breakdown; weekly food planning forms and support as well as weekly review forms.
The next group program starts on Sunday 1st May for 8 weeks.
Weekly Group Zoom: Wednesday 7:40pm
 Life heading too much one way or the other?
Losing sight of time for yourself?
Steady weight gain?
Keep thinking that you will start tomorrow?
Feeling tired and sluggish?
Mood swinging one way and then another?
I can't promise to halt all of these but I can help...
The 'Reset' has been developed as a program for you to take some time out to prioritise you, you wellbeing, your fitness and your general lifestyle. The program can be tailored to meet your goals and you will finish the 'Reset' with sustainable lifestyle habits.
There will be a group zoom session WEEKLY on a WEDNESDAY at 7:40pm for no more than 40 minutes which will put you in good stead for the week ahead.
In addition to this:
access to our 'Trainerize' app for weekly training programs

opportunities to gain a deeper insight into your behaviours and relationship with your fitness and wellbeing

encouraged to set weekly goals and set out weekly food plans.
From the start of 'The Reset', you will have
Access to informative, educational lectures to support your journey in Energy Balance, Emotional Eating, Mindful Eating, Habits and more...
Access to recorded On Demand Fitness Sessions and Fitball Body Conditioning.
Access to On Demand educational content to support your journey.
Access to our Training App -Trainerize for workouts and lectures.
Access to our member's area on www.infinitebalance.co.uk
It is helpful to have two x lighter weight of 2 - 3kg and one heavier weight of 5kg+ - though you can always hold your two lighter weights in one hand -a safe space to record your weight, body measurement, progress pictures, cardio activity and more...This app will also link to My Fitness Pal, Apple and Fitbit watches.
We will work WITH our bodies - for those that want to lose fat, then we can do that, for those that want to maintain then we can do that, for those that want to increase weight / muscle mass then we can do that too.
We are all doing this to feel fitter, stronger and healthier. You don't need to do this alone….
The main ethos of the Reset is to:
Plan out balanced weekly meal plans to include protein sources, a variety of fruit and veg and more.
Track meals using My Fitness Pal (looking at macro-nutrients breakdown to support this).
Tracking of progress - using non-scale victories (plus scale tracking if you choose to).
How to manage plateaus.
Develop sustainable lifestyle habits.
Drink at least 2 litres of water per day.
Set daily movement in time or steps ( ideally 30 mins+ or at least 8 000 steps).
Exercise with moderate to high intensity at least three times per week.
Set sleep hours target.
I will also send you a weekly 'check in' form for you to complete to feedback directly to me.
The Reset gives you the chance to set YOUR goals - it is not dictated to you what you should do but there is guidance for you if you would like to chat through your goals.
This is not a program where it is fixated about weight loss - it is about creating habits that can last long term. To know the importance behind out daily steps, to know why we need to drink water throughout the day, to have a library of 'go to' recipes and weekly food plans that work for you and yur household.
Yes, the Reset Program does need an element of time and focus.
BUT, the time and focus that you spend will be benefited by YOU. You are the one who will reap the success of the time and effort that you put it.
Ultimately, through this program, you will be eating more vegetables, drinking less alcohol and reducing your over composition of calories which will in turn make you feel better, more energised and more in control.
Key Topics which will be covered:
Energy balance - getting the balance right for you with energy in (calories in) and calories out.
Tracking calories / not tracking calories.
Emotional eating.
Mindful eating.
Recognising barriers to reaching goals - lots of chat about mindset which is usually a main barrier to reaching those goals.
How to enable yourself to create change one step at a time.
Becoming friends with your body - listening to what it needs to be the healthiest version of yourself at this moment in time
If you would like to know more, contact me to arrange a Discovery Call at a time suitable to you - kirsty@infinitebalance.co.uk
Kirsty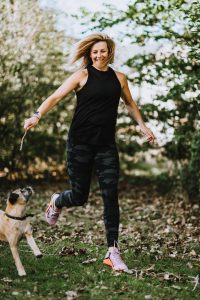 What Laura said...
"I love the 'Reset', it's really encouraging to have a group a like minded people all with the same/ similar goals. The group keeps me motivated and the weekly round up on Sunday helps keep me focused for the week ahead.
Food prep had been a massive part of my journey this month, keeping me on track and always having something tasty and balanced to quickly grab instead of making silly convenient choices.
So far I have lost nearly a stone in weight and I am current at my lowest weight in two years!
I love seeing all your posts in our online group and every time I see one it's a bit of encouragement to keep going - we are all in this together"
L.K. November, 2020
Taken from @infinite_balance_x (20.01.2022)
"It is Week Three of our January Reset Program. I asked the ladies what they were proud of and this is what they said. What I absolutely love about these comments is that every one of these comments is focusing in on themselves and what works for them - the answers are all different but with a similar theme.
Throughout the Reset, there is an underlying current of getting to grips with our calories and energy expenditure but we go deeper to look at behaviours, emotions, habits, our relationships with food, the barriers and what will help us. It is step by step, week by week.
We can know the theory of calorie deficit / energy balance / need for movement and how it 'should' work, but if our own behaviours / habits/ emotions (etc) are the barrier to us actually putting this into practice then we need to do something about that or we will struggle to reach our goals.
Not everyone has a weight loss goals - some goals were to move more, to strengthen, to have a balanced diet, to make time for themselves. Again - all different but with similar themes of prioritising their own health and fitness."