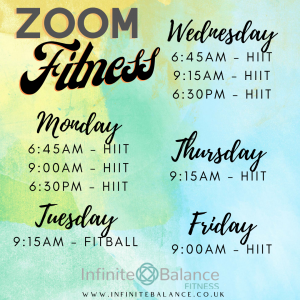 Our classes are mainly ladies - very welcoming and good fun with a lot of modifications offered for all fitness levels!
Whether you are completely new to us or maybe you have had a break and fancy dipping your toe back in - please do come along and join us.
For your first session, use the code FREECLASS and your discount will be applied.
HIIT Sessions - these sessions are to strengthen and quicken your pulse rate! There is a mix of slower, steadier exercises and those which are of higher intensity. It is handy to have two light weights and one heavier weight for these sessions.
Fitball -using a core stability ball, a body conditioning session which is mat based, calm, steady and gives you time to strengthen and slow down.
This is our booking site. We use 'Team Up' as the platform for all of our bookings. Group sessions are shown below and Paired / Personal Training sessions are shared between Kirsty, the trainer, and the client.
Please contact me if you have any questions,
Kirsty
I love my sessions with Kirsty. Three months ago I hadn't done a push up, sit up or burpee for years, now they are a regular part of my weekly sessions at Infinite Balance. My body has changed beyond anything I ever thought would be me. This is my investment in my next 45 years! Kirsty makes sure that I work my whole body, continually encouraging me to do it my way. She makes me feel like it's all about me. It has been so empowering. I also enjoy the companionship of others on their own journey of fitness too. Would highly recommend Kirsty at Infinite Balance.
Corinne, October 2020
I'm at my fittest since I joined Infinite Balance. There's a huge variety of workouts (HIIT, strength, fitball, recorded and live zoom sessions etc) so I never get bored and I can always find a workout no matter how much time I have. I love the small group sessions too (when it's not a lockdown), everyone is so friendly and Kirsty motivates me to push myself. I joined Infinite Balance when the gyms closed during the first lockdown but I won't go back to the gym now when it opens as I'm getting much more out of being with Infinite Balance.
Sarah, November 2020
Kirsty can't do enough for you when you join her classes. She adapts exercises, provides bespoke routines and responds to needs and questions really fast. A kind, inspiring and motivating person!
Nat, November 2020
I started doing Fitball with Kirsty before the pandemic and have continued with her online classes throughout. I can honestly say they are brilliant. A mix of fun, proper core strength exercise, and relaxation. You chose the level you're comfortable with and as the weeks go on you'll be amazed at how quickly you'll be able to get to the next level. Kirsty is a brilliant leader, I don't know how she's kept smiling through the last eight months but she has and it has helped all of us cope too!
Clara, November 2020
I cannot recommend Kirsty enough, she is fab! I started training with her about 2 months ago and am loving the sessions which are well planned, challenging but not overwhelming, and lots of fun. Kirsty is kind, encouraging and very knowledgeable. I was gutted that lockdown kicked in just as I was getting into my groove but Kirsty has been amazing at flipping into online training which actually works really well. Thank you Kirsty, am loving my sessions with you and can't wait to get back into the gym!
Helen, November 2020
I was lucky enough to win a set of personal training sessions in the school Christmas raffle! I have been blown away with the knowledge and attention to detail, I have experienced from Kirsty. There have been so many opportunities that cater for everyone. I have massively enjoyed the zoom sessions and have joined up to the January Reset programme. I have always participated in physical activity but freely admit I hide and I am complacent with what I do. The thing that makes Infinite Balance different is the personalised approach to training! What a fab set up!
Debbie, December 2020
A safe calm and caring environment to work out. No judgement just encouragement. So glad I'm part of it
Karen, June 2020
Kirsty Ellson is amazing! Having known her for almost 24 years I can vouch that she is a highly skilled and passionate PT who is all about getting your physical, mental and nutritional health in balance. Highly recommended if you want to get healthy and strong in a super friendly environment. Physical and virtual classes or individual, pairs or group PT, there really is something for everyone. Kirsty is always available for an informal chat to explain all. Highly recommended on all levels!
Nathalie, May 2020